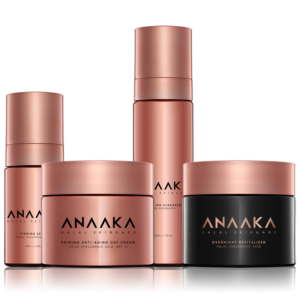 Welcome to the world of ANAAKA
Finest Halal Lifestyle.
The time has come: after years of careful development of our unique halal skincare, we are now starting official sales on our brandnew website. In the last few months we have already received a lot of inquiries from you about when our shop will open. Now the waiting is finally over and we can present you with an appearance that meets our premium products and the high demands of our customers.
After many exciting weeks of hard work and sleepless nights, our site is now online. But we are still a long way from reaching our goal, because we have big plans! We want nothing less than the revolution in the field of halal cosmetics. We are now starting to sell our premium products for daily care routine directly via our webshop. An expansion of our product range is planned for the future in order to be able to satisfy many other needs of modern muslim women with special care products in the best halal quality.
In order to celebrate the start of our website, we are offering you all articles in the ANAAKA online shop at an attractive introductory price. We have also put together an exclusive free trial kit for you. You only pay for shipping. The free trial package is only available in a very limited number – so it's definitely worth being quick.
With the release of our shop, we will be there for you more and more on Instagram and Facebook. We would be delighted if you would follow us and share your positive experiences with our luxurious halal cosmetics.
Now we hope you enjoy discovering our shop and order our high-quality care products at an introductory price or one of the limited trial kits. In addition, we always look forward to your feedback as well as your wishes and suggestions. You are welcome to send us a message at any time.
what to expect
ANAAKA ON SOCIAL MEDIA
EMPOWERING YOUNG MUSLIM WOMEN ALL AROUND THE WORLD
We founded Annaka Halal Cosmetics nearly three years ago, after intense investment into research and development, in order to bring to the Muslim world, and in particular the Muslim woman, the best Halal Skincare products this world has ever seen.
We use ingenuity, modern technological advances, and years of experience of experts to finally bring the modern Muslim woman the Halal skincare lifestyle that she deserves.