PREMIUM HALAL SKINCARE
The first Halal skincare collection designed to deliver a complete solution for a day-to-day skincare routine and Halal lifestyle.
INNOVATIVE FORMULAS
Our innovative formulas are the result of years of uncompromising research, development, and testing. Every detail was accounted for, from the gathering of the base ingredients, to their pharmacological assembly, and to the countless user experience testing that was done before the final products were approved. We made sure that all of products are beneficial for all ages and skin types.
Each formula was fine-tuned for maximal customer satisfaction
As our pedigree as a startup company demands, we subjected our beauty products to a barrage of testing, just as any technology company will do before the release of a new product, all the time fine-tuning each formula to maximize customer satisfaction.
After this, we blind tested our product against other high levels of major cosmetic companies, to make sure that we were not bringing the customer any product inferior to any significant brand, non-Halal, cosmetic companies. As a result of all this hard work, Annaka cosmetics is proud to present its first line of Halal beauty and skincare products. The proud international Muslim
community is made up of 1.5 billion Muslims, half of which are women. As a Muslim oriented startup, we see our innovation of high-quality Halal cosmetics as an essential influx into the international Muslim community. Our products are pure, healthy, and Halal. They are made wholeheartedly, with the Muslim consumer in mind, and in the way of the Prophet (PBUH). We proudly make all of our
products without tolerance for compromise and aim to help the Muslim woman improve both her health and beauty regiment as one. Through the daily use of Anaaka Day-to-day products, she is getting the best for her skin, her religious obligations, and her personal investment into her beauty regime.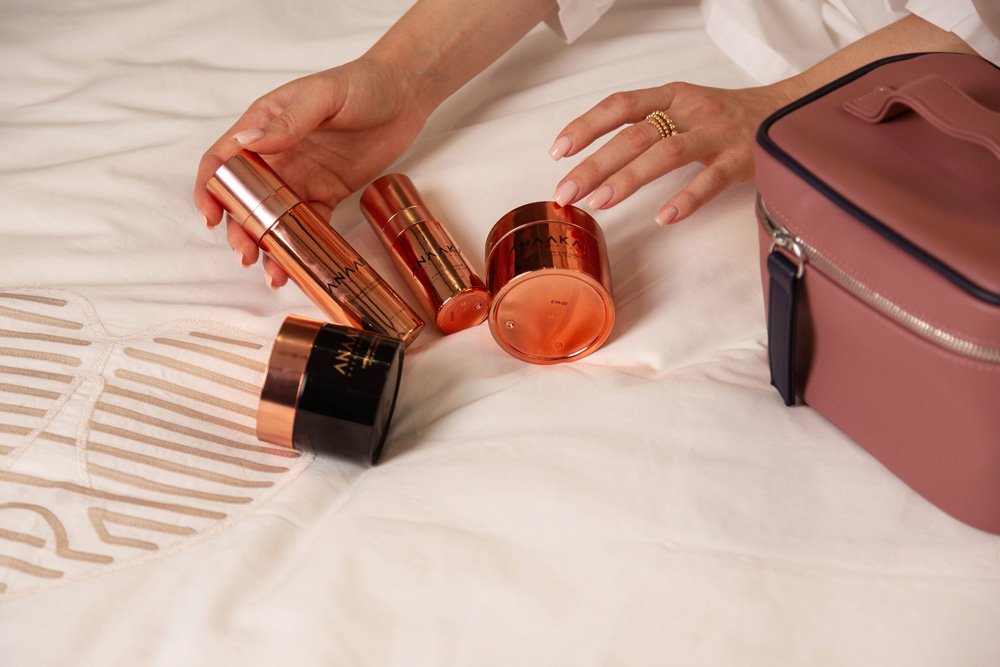 Importance of your daily Anaaka skincare routine Sunscreen is not only important during summer vacations or on those sunny days at the beach; it must be applied all day, every day, without exception. Are you wondering why? Well, let's first talk about the damage UV...
Halal way of life
EMPOWERING MUSLIM WOMEN ALL AROUND THE WORLD
We founded Annaka Halal Cosmetics nearly three years ago, after intense investment into research and development, in order to bring to the Muslim world, and in particular the Muslim woman, the best Halal Skincare products this world has ever seen.
We use ingenuity, modern technological advances, and years of experience of experts to finally bring the modern Muslim woman the Halal skincare lifestyle that she deserves.